News Events & Announcements

_______________________________________________________________________________________________________________________

Trades Commencement Ceremonies
Graduation brings it all into focus for College welding student
Today marks another important step toward that new career path as he and hundreds of others – from Aircraft Maintenance Engineers to RV Service Technicians – earn credentials at the College's Trades Commencement ceremony.
"I felt I wasn't getting any more traction in my career and didn't know what was in store for my future in the photography industry," explains Burton. "I was looking for something to happen, so I went back to basics and thought to myself, 'why not find a new path that combines another one of my passions with work?'"


The answer to that question inspired Burton to get in his car and drive west across Canada to move to the Okanagan to pursue a new career path. An avid scuba diver, Burton was intrigued by the possibility of becoming a commercial level diver. Upon further research, he decided to explore a trade closely associated with commercial diving – welding – which led him to Okanagan College.


"Deciding to go to the College and enrolling in the welding program just felt right for me and now that I'm at the end of this program I can say it was the right choice," says Burton. "Welding is such a versatile trade and you can really do so much with it and work in a ton of different venues which makes me very excited for my future because the opportunities are endless."


For Burton, today's ceremony marks the completion of his C-Level Welding Foundation Certificate which he hopes will
propel him into the industry and open the door to future training.
"Graduating has given me a huge sense of accomplishment and I can't wait to hit the ground running in this industry and start laying down some roots in the region," says Burton. "I am excited to see where I'll end up in this career."

Burton's next step will be to accrue the 1,000 hours of industry experience required to earn his Level 1 apprenticeship, after which he plans to return to the College to obtain B-Level Certification.

"Tradespeople play a vital role in building and sustaining our communities and trades training has always been at the heart of what we do at Okanagan College," says President Jim Hamilton. "We commend all of our 2018 trades graduates on their achievements."

More than 700 apprentices and foundation trades students will have received credentials since January. About 100 of those students were expected to attend Thursday's ceremony.

Trades Commencement is one of eight convocation and commencement ceremonies Okanagan College will host this year. By the end of June, the College will have sent more than 2,000 graduates into the world to become nurses, engineering technologists, business leaders, computer programmers, educators, tradespeople and more.

Okanagan College is the second-largest trades training institution in the province behind BCIT.
Okanagan College students bring home a trio of gold medals
Okanagan College (OC) students and apprentices Connor McLaren, Lukas Pfob and Bradley Vanlerberg stepped to the top of the
podium in this weekend's provincial Skills Canada competition in Abbotsford and solidified a spot in the National competition in June.
The trio was among the 14 OC students and apprentices that attended the event on April 18, which gleaned a collective eight medals t
to bring home to the Okanagan.
Each year, the Skills Canada competition congregates secondary and post-secondary students and apprentices from across British Columbia to participate in a series of challenges distinct to each of the 47 different disciplines in the competition.
Pfob returned to Skills Canada's provincials this year to win his fourth overall medal in carpentry and his second consecutive gold medal. He will be continuing onto nationals in June for his second year in a row.
Pfob notes that his gold-medal efforts aren't without assistance from his OC instructors. "They've supported me and gone beyond showing me just the basics of carpentry."
McLaren was surprised to be brandishing the gold medal at the end of the day, worried that he had stumbled on a couple of the six stations in the Automotive Service event, but was happy to come out on top. Mclaren's classmate, Levi Nicholas, also placed in the event, joining McLaren on the podium with a silver medal in the same category.
Vanlerberg, 18, is convinced it was the exam portion of the Aerospace Technology category that gave him the extra edge against his opponents

and led him to gold. Like the other gold medalists, he will be continuing onto Nationals taking place in Edmonton in June.
Steve Moores, the Okanagan College Dean of Trades and Apprenticeships, is proud of the OC's commitment to its students, but doesn't allow that to detract from the impressive accomplishments of their students.
"They work with their instructors over long hours to prepare for these competitions. It's a commitment on behalf of the instructors," said Moores. "But it all comes down to the students' skills and abilities."
Along with the three gold medalists, OC brought home silver in both Heavy Equipment Service (Kian Banner) and Aerospace Technology (Levi Nicholas) as well as bronze in IT Network Systems (Frank Van Zandwijk), Refrigeration (Adam Sohnchen) and Culinary Arts (Siobhan Detkavich).
Sawing wood for the community

On April 13, 27 students from School District 23 visited the OC Trades department to participate in an exciting project. Supervised by Marvin Rode, Department Chair for Construction Trades at OC, the students helped cut planks from raw logs with a portable saw mill. The planks, donated by Gord Wilson and Chuck Cullen from Team Construction, will be used to build planters for the City of West Kelowna and the new Trades Centre at the Vernon campus.
James Ross, a Trades and Technology Teacher Education alumnus brought his Grade 8 and 9 Tech Ed students from Glenrosa Middle School. Claus Gerlach, a SD 23 teacher and College trades instructor, brought his Trades Sampler students from the SD 23 Trades and Tech Centre to work together on this project. Gerlach and the students participated in hand-sawing contests while the students took turns on the saw mill.
Kelowna company hires nearly a dozen OC welding grads
Posted by: Public Affairs
Okanagan College Media Release

Kelowna company REIDCO Metal Industries Ltd has become a fan of Okanagan College's welding and metal fabrication programs, having recently hired nearly a dozen graduates.

REIDCO serves a variety of industries, including electronic and communication equipment, agriculture, lumber, mining, oil and gas, and the military by providing custom manufacturing in the fabrication of precision steel, stainless steel, and aluminum products, and has been in business since 1981.

"Okanagan College provides a good foundation of training that we can then contour for our purposes and projects. We are working on truck parts, military parts, and seeing more from the resource industry," says Bryan Johnston, president of REIDCO. "The job prospects are good, and there are a growing number of well-paying opportunities."

The company's support for students starts long before they graduate.

Students can spot the REIDCO sign hanging in the Trades Training Complex at the Kelowna campus in recognition of their donation to the new building. Johnston says this is a beneficial connection for both. "We're pleased to support the College and it's a great dividend to have well-trained employees coming to us."

Nathan Kleger is one of REIDCO's recent hires from Okanagan College.

"My job has been the perfect complement to the Welding Foundation course," says Kleger. "REIDCO has a core of experienced workers who have gone out of their way to help us transition from what we learned in school to doing quality production work in the shop."

"If you're looking for a good job and are willing to train and work hard, apprenticeship trades training in welding at Okanagan College may be an ideal option," says Sean Jarvis, Chair of the Welding program.

The College offers a number of program options leading to careers in the welding industry, and has rotating start times for the Foundation program at their Kelowna, Penticton, Vernon, and Salmon Arm campuses. The Kelowna campus offers Welder Apprenticeship training, Multi-Alloy metal welding, and Metal Fabrication.

"I'm still learning every day but now I'm also part of a team and building a career at the same time," says Kleger.

For more information on welding, visit: www.okanagan.bc.ca/welding
---
Residential Generosity continues to flow for the College's Trades Complex
A leading Western Canada company is giving a surge to trades students at Okanagan College.
Bartle & Gibson Co. Ltd. is contributing $37,500 to the Bright Horizons - Building for Skills fundraising campaign for the new trades complex on the Kelowna campus.
The Canadian-owned plumbing, heating and electrical products distributor announced the gift at the grand opening of their new location in West Kelowna on Nov. 3. Bartle & Gibson President Robert Whitty was in town to present the cheque to Steve Moores, Okanagan College's Dean of Trades and Apprenticeship.
"Bartle & Gibson is proud to make an investment in the training and education of the industry's future electricians and plumbers," says Whitty.
The company's contribution to the $35-million trades complex, which officially opened in Sept. 2016, is two-fold. A cash donation will support the tool room that serves the Electrician program's three labs. The company has also pledged an in-kind donation to provide products, tools and equipment to electrical and plumbing and piping trades students.
Launched in 2006, the College's Electrician program is the most popular trades program in terms of enrolment, with approximately 700 full-time equivalent foundation and apprenticeship students per year, with training at all four campuses and through a partnership at Nicola Valley Institute of Technology in Merritt.
"We are very grateful for this generous gift to our students, programs and facility," explains Moores. "When a well-respected company like Bartle & Gibson makes the choice to invest in skills training, it instills confidence in our students knowing the industry supports their educational choices."
Founded in 1944, Bartle & Gibson originally launched with stores in Vancouver and Victoria and has expanded to 30 branches. Their first Okanagan store opened in West Kelowna in 1997, followed by a Kelowna location in 2006. After more than 20 years in the region, their highly-anticipated new space combines the two branches into a single 35,000 square-foot building located at Hwy. 97 and Stevens Rd.
"Our customers, manufacturers and employees have helped us grow our footprint in the Okanagan," adds Whitty. "Investing in the region is our way of thanking them and showing our commitment to the region today and well into the future through our partnership with the College."
---
Residential Construction students lend a hand with En'owkin Centre renovation
A class of Residential Construction students from the Penticton campus spent the last few weeks at the En'owkin Centre, working on everything from flooring to painting, among other projects, as part of a major summer renovation to the centre.

Tag Savage is one of 11 students who have had a chance to put their construction skills to the test on the project, under the tutelage of instructor Rose Simpson. Savage, who hails from Summerland brings two years of property finishing and renovations training, along with roofing experience, to the newfound knowledge and s he's picked up since stepping into the program in February.

"Working on the fine detail work has been a great experience," says Savage. "Even though we've only been here for three weeks I feel like we've been able to do a lot and make a contribution to the Centre. I personally take a lot of pride from that."

"The students have done an amazing job," notes Simpson. "Everyone at the Centre has been very welcoming and appreciative. It's wonderful that so many people will get to use and enjoy the spaces that they have had a hand in updating."

The class also built multi-purpose sheds for the property. They have now wrapped up their work at the Centre and will complete the program in Mid-August.
---
Trio of OC students earn bronze at Skills Canada Nationals
Three Okanagan College Trades students each earned bronze medals at the Skills Canada National Competition (SCNC) held in Winnipeg from May 31 – June 3.
Brendan Battersby took home the bronze in the IT Network Admin competition. Battersby graduated from the Network and Telecommunications Engineering Technology (NTEN) program at the College's Spring Convocation Ceremony in Kelowna earlier this month. He is employed by iTel Networks Inc. Pictured with coach Ron Light, NTEN program instructor at Okanagan College.
Siobhan Detkavich of Oliver earned bronze in the Cooking competition. Detkavich is completing her Level 2 Professional Cook apprenticeship at the Kelowna campus and works in the kitchen at Terrafina Restaurant at Hester Creek by RauDZ. She was coached by OC Culinary Arts instructor Chef Jim Armstrong.
Andreas Roth won bronze in the Autobody competition. Roth is a Level 3 Motor Vehicle Body Repairer apprentice at the Kelowna campus and is employed by Boyd Autobody and Glass. He was coached by OC Collision Repair instructor Danny Marques.
These students qualified for Nationals by winning gold medals at the Skills Canada BC Provincial Competition in Abbotsford in April.
Congratulations to medal winners at the Skills Canada National Competition, as covered in the Penticton Herald and Kelowna Now.

---
Trades Training House
Kelowna-Lake Country MP Stephen Fuhr, representing the Honourable Navdeep Bains, Minister of Innovation, Science and Economic Development announced today a $332,485 investment from the Federal Government in a new trades training house at the Kelowna campus of Okanagan College.
Construction is expected to begin in Spring 2017 on the new 2,700 square foot facility that will provide hands-on, practical training opportunities for more than 300 students per year for programs including carpentry, electrical, plumbing and piping, steamfitter/gasfitter, residential construction, and sheet metal worker.
The interior structures of the Trades Training House will continuously change, reflecting the cycles of training in the academic year and advances in building technologies and techniques. The facility will also provide new opportunities for students to learn solar panel installation, repair and maintenance and be a site for applied research projects and contract training opportunities to meet the needs of industry in the region and beyond.
Upholding the College's commitment to sustainability, the project will incorporate the latest green building technologies, techniques and materials, including an extensive solar photovoltaic array on the roof to capture energy, along with a system for collecting and reusing rainwater.
The project will cost $867,000 and is being funded through $332,485 support from the Government of Canada and investment by Okanagan College, donors and industry partners. The project is expected to complete in Fall 2017.
"The Trades Training House will be an important piece of infrastructure in our approach to skill development," explains Okanagan College President Jim Hamilton. "This will give the trades students a chance to work together on various projects in a real-world setting. It will benefit our apprentice and foundation students but will also be a great tool for some of our special programs, such as Women in Trades and Aboriginal Gateway to the Trades."
The Government of Canada funding for the infrastructure project is being allocated through the Post-Secondary Institutions Strategic Investment Fund, which will enhance and modernize facilities on Canadian campuses and improve the environmental sustainability of these facilities. A total of $2 billion has been allocated to accelerate infrastructure at Canadian colleges and universities over the next three years.
Read more about the technology and features of the Trades Training House in the fact sheet.
---
OC students notch 12 podium finishes at Skills Canada BC Provincial competition

Posted: Tuesday, April 11, 2017 7:31 pm Special to The Herald
OC was the best in the province in the areas of Automotive Collision Repair, Automotive Service, Carpentry and IT. Brendan Battersby, a second-year student in the College's Network and Telecommunications Engineering Technology (NTEN) program won gold in IT – Network Systems Administration. Kurt Breton, a level 4 apprentice earned gold in Automotive Service, while Lukas Pfob, also a level 4 apprentice, took the top spot in Carpentry.

Andreas Roth, a level 3 apprentice, won gold in Automotive Collision Repair – a category swept by OC. Roth was joined on the podium by Caleb Loewen who brought home the silver medal and Marcel Kaemmerzell, who earned bronze.

"As a first time competitor, I did everything I could to prepare ahead of time, but it was definitely a new and unique experience for me," said Roth. "I'm really excited for nationals. I am going to practice hard and try my best for another good result in Winnipeg."

Roth and his fellow Collision Repair competitors were evaluated on their skills across a variety of tasks, including welding, plastic and metal repair, and damage analysis over the six-and-a-half hour competition.

Collision Repair instructor Danny Marques said while preparation plays a big role in students' success, it is their ability to perform under pressure that is the determining factor on competition day.

"We couldn't be prouder of these three students – and all the students who represented OC and themselves so well at the competition," said Marques. "As coaches, we obviously try to mentor the students as much as we can, but ultimately they are the ones competing and it's their ability and motivation that sets them apart."

Overall, Okanagan College students captured a dozen medals at the competition, which was held on April 5 at The Fraser Valley Trade & Exhibition Centre in Abbotsford. Other institutions that took part included Vancouver Island University, BCIT, Kwantlen Polytechnic University, Camosun College, Northern Lights College, University of the Fraser Valley, Riverside College, Thompson Rivers University and Vancouver Community College.

Okanagan College students placed as follows:
GOLD • Kurt Breton – Automotive Service • Lukas Pfob – Carpentry • Andreas Roth – Automotive Collision Repair • Brendan Battersby – IT – Network Systems Administration
SILVER • Jason Clair – Electrical • Caleb Loewen – Automotive Collision Repair • Tijana Nelson – Cabinetmaking • Brandon West – Heavy Mechanical • Brendan Battersby – IT – Network Systems Administration
BRONZE • Marcel Kaemmerzell – Automotive Collision Repair • Patryk Norek – Automotive Service • Bryce Mackay – Aerospace Technology • Rob Cordonier – Refrigeration
Gold medalists earn a berth to the National Skills Canada competition on May 31-June 3 in Winnipeg. The national competition attracts more than 500 competitors who compete in 40 contest areas. The program was launched in 1994, and is the only national multi-trade and technology competition for young students and apprentices in the country.

---
New OC Vernon trades building annoucement
On Monday, Nov. 21, the Government of Canada and B.C. Government announced funding that will support the construction of a new 1,250 square-metre (13,450 square-foot) Trades Training Centre at Okanagan College's Vernon campus.
The funding will help address a shortage of available trades training shops in the region by providing a purpose-built space at the Vernon campus. The new building, which will accommodate approximately 150 students, will include multipurpose trades shops and supporting space, a dedicated welding shop and multi-use trade space for the electrical, carpentry, plumbing and pipefitting programs, as well as Aboriginal and Women Trades Training programs.

Read the full story here.
---
Castanet Coverage:​

A massive investment is being made at Okanagan College in Vernon.
The Kalamalka campus will be getting a new trades training centre.
Currently, trades training is done in a leased space at the Vernon airport, but the federal and provincial governments are providing $6.21 million in funding for a new 1,250-square-metre (13,450-square-foot) Trades Training Centre tol be built on campus.
The facility will also address a shortage of available trades training shops in the region.
The new building will include multipurpose trades shops and supporting space, a dedicated welding shop and multi-use trade space for the electrical, carpentry, plumbing and pipefitting programs, as well as Aboriginal and women-in-trades training programs.
Jim Hamilton, Okanagan College president, said "it's good news because we will have a purpose-built trades training facility here on the campus."
Hamilton said it will make a big difference for students taking trades courses.
"Students who are off site don't have immediate access to all of the other services that students on campus have – the library, the cafeteria, the gym, social events and all those sorts of things," said Hamilton.
For electrical student Harrison Coe being able to learn a trade on campus means a lot for accessibility.
"Right now, we are at the Vernon airport and we sort of create our own little autonomous world, but it will be really nice to have some community feeling of the campus."
Funding for this project includes:
$2.66 million from the Government of Canada
$2.88 million from the Province of British Columbia
$670,000 from Okanagan College
Construction is expected to get underway shortly with completion by spring 2018. The new building will be built to LEED Gold certification and construction is expected to create 25 direct and 13 indirect jobs for the region.
Nearly one million job openings are expected in B.C. over the next decade, and eight out of 10 of these openings will require post-secondary education, according to an official release.
Trades Showcase & 35th Annual Career Fair Sunday Nov. 6, 2016
​
Over 22 Industry Exhibitors, hands on activities and
Okanagan College Trades Building wins top honours at SICA Commercial Building Awards
Okanagan College Trades Building was named the Judges' Choice Best Overall entry in the 8th Annual Southern Interior Construction Association Commercial Building Awards Thursday, Oct. 27 at the Four Points Sheraton Hotel.
There were 28 finalists in the event, which had cities in the Thompson, Okanagan and Kootenay regions represented, with entries from Kamloops, Monte Creek, Salmon Arm, Sicamous, Enderby, Vernon, Lake Country, Kelowna, West Kelowna, Summerland, Penticton and Cranbrook.
Re/MAX Commercial was a Gold sponsor of the event, with RBC Royal Bank, Coldwell Banker Horizon Realty, MNP LLP, Wood WORKS! BC and Green Sheet Review.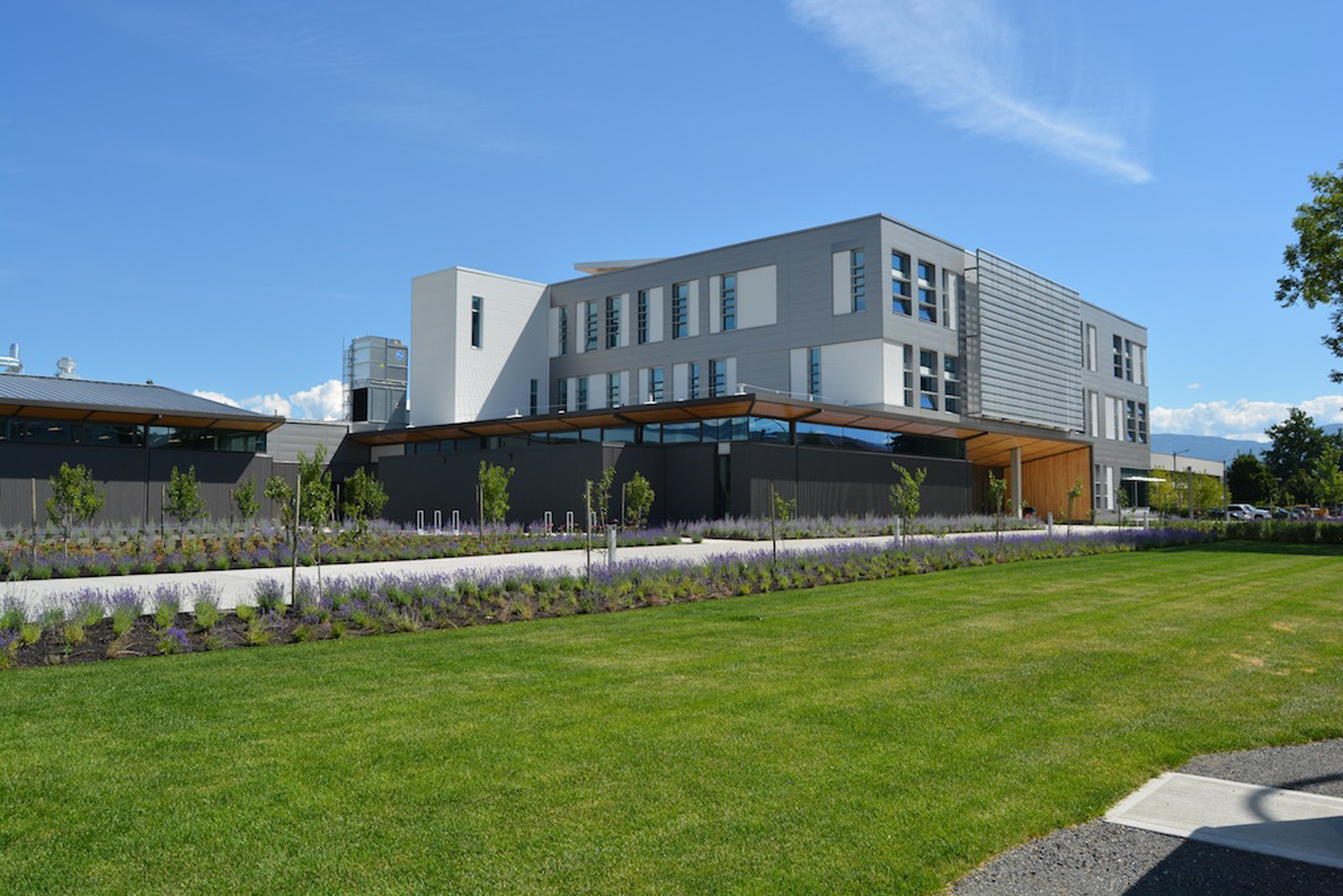 New institutional, commercial, industrial building, multi/single family, recreational or renovation projects must have been completed between July 31, 2015 and July 31, 2016 were eligible. Each submission was judged by a team of independent judges.
Okanagan College Trades Building
was the Excellence Award winner in the Commercial Institutional category as well.
General Contractor for the project was
PCL Constructors Westcoast Inc.
, and Architect/Designe was
Diamond Schmitt Architects Inc
.
---
Construction Craft Worker students on the job
Within days of stepping into the classroom, a group of Okanagan College trades students were stepping onto the jobsite, putting their newly acquired skills to work on a Habitat for Humanity home in the South Okanagan.
Twelve students from the Construction Craft Worker Aboriginal Bridging (CCWAB) program recently spent two weeks contributing painting, trim, landscaping, and insulation to a single family home in Peachland.
"This was an incredible experience for our new CCWAB students," noted Sara Cousins, the program's coordinator. "Both Habitat for Humanity and the homeowner were very pleased with their thoroughness and work ethic."
Students will gain hands-on training on a number of jobsites between now and December, including on the site of the new Westbank First Nation Youth Centre, where they assisted with the removal of a three-level scaffolding system on Oct. 3.
Offered in collaboration with BC Hydro and Westbank First Nation, the program is tuition-free and includes work boots, bus passes, group study sessions, cultural activities, volunteer work experience and job search skills to remove potential barriers and support success. Click here for more information about the program.
Trades Training so good, it's "Superboulous"

Story featured June 22, 2016 on BC Gov News
Darrick Louie, originally from Cortes Island, was working as a construction labourer at jobsites throughout British Columbia when he made the decision to return to school, "Employers kept asking me if I had my ticket. I made the decision to go and get it."
Darrick chose Okanagan College and the Construction Craft Worker Aboriginal program.

Construction craft workers are part of almost every construction site. They are responsible for a range of duties at construction sites, including site preparation and cleanup, and assisting on concrete, masonry, steel and wood projects.
The Okanagan program was supported through funding by the Ministry of Advanced Education, and included a combination of classroom learning, hands-on practice and workplace training. Derrick couldn't believe how much information instructors squeezed into just ten weeks of instruction, "We learned everything, from doing foundations to putting tresses on a roof, all aspects of building a house from the ground up."
Darrick made extra effort to find his own work-placement and one that he wanted to do long-term. His experience there was encouraging, "The hands-on training was a huge help even though I had worked construction before. Experienced workers always have quicker ways of doing things."

Darrick's involvement in the program was so positive he made up his own word to describe it, "'Superboulous.' I use it all the time. It describes how awesome the program is."
Darrick found it much easier to find work. He received a call from a prospective employer just two days after completing the program, "Getting a ticket opens so many options. It proves to an employer you are dedicated to your work."
He is working as a unionized, ticketed, construction craft worker in Winfield, "I love my work. I'm not just doing one thing all day." Darrick's new employer is impressed with his great attitude and willingness to learn, and believes the program has prepared him to handle work in several trades, including carpentry and plumbing.
Darrick is looking to his future and plans on continuing his studies, "I'm hoping to go for my level two in construction craft worker. And in a couple of years I want to build homes that shelter people."
He is also acting as an unofficial ambassador for the program, trying to convince friends and even a store clerk about the benefits of Okanagan College, "You can stick to residential housing, move to the city, or work on high-rises – your options are wide open after taking this program."


---
Trades Training Program offers new opportunities
ShawTV - Okanagan recently visited Okanagan College's Kelowna campus to film a video about the College's successful Women inTrades Training Program (WITT); meanwhile The Summerland Review published a story onJune 2 about the WITT program and growing opportunities for women in the trades,including an interview with Program Administrator Nancy Darling.

---
Construction craft worker program provides stepping stone
onto the jobsite for Aboriginal students


Twelve students from bands throughout B.C. and across Western Canada recently completed the first level of a unique collaborative apprenticeship program designed to support Aboriginal learners looking to advance their careers in the construction sector.

In March 2015, Okanagan College launched a new Construction Craft Worker two-level apprenticeship program. Last November, the College created an intake tailored specifically for Aboriginal students.

Photo Gallery - students placing concrete.




"The College is committed to working with local bands, First Nations, and Métis across our region to create access and offer new training opportunities to meet the need for skilled workers among their members," says Okanagan College President Jim Hamilton.

"This course was launched to help Indigenous students broaden their experience and gain the jobsite skills that employers are looking for," says Hamilton. "We collaborated closely with the local bands and worked with the students to identify what kind of added support would help them be successful."

Most of the students in the class are from the Westbank First Nation (WFN) and Adams Lake Indian Band (ALIB), with a few from bands and communities outside the region.

"Aboriginal students who complete the Construction Craft Worker program are opening a door to jobs that support their families and communities," says Advanced Education Minister Andrew Wilkinson. "Workers are needed in the Okanagan to fill the skills gap in sectors such as construction, and Aboriginal workers from this program are fulfilling that need."


"The College is committed to working with local bands, First Nations, and Métis across our region to create access and offer new training opportunities to meet the need for skilled workers among their members," says Okanagan College President Jim Hamilton.

"This course was launched to help Indigenous students broaden their experience and gain the jobsite skills that employers are looking for," says Hamilton. "We collaborated closely with the local bands and worked with the students to identify what kind of added support would help them be successful."
Most of the students in the class are from the Westbank First Nation (WFN) and Adams Lake Indian Band (ALIB), with a few from bands and communities outside the region.

"Aboriginal students who complete the Construction Craft Worker program are opening a door to jobs that support their families and communities," says Advanced Education Minister Andrew Wilkinson. "Workers are needed in the Okanagan to fill the skills gap in sectors such as construction, and Aboriginal workers from this program are fulfilling that need."

In addition to the WFN and ALIB, the College partnered with agencies throughout the province to break down barriers for students. The Aboriginal Community Based Training Partnerships (ACBTP) Program provided tuition and books, tools, lunches, safety gear and transportation. CIBC provided motel accommodation and living support for out-of-town students.

The bands, the Aboriginal Skills, Employment and Training Services (ASETS) and the Okanagan Training and Development Council (OTDC) provided meal allowances; OTDC also sponsored the apprentices.

"This type of training is so beneficial for our young people and our community as a whole," said Adams Lake Indian Band Chief Robin Billy, who spoke at the class's completion ceremony in West Kelowna on Feb. 19. "We need workers who are well trained and have the skills necessary to build our houses, schools, roads, and other vital infrastructure."
For Jay Darwin Charleyboy, a member of the Ulkatcho First Nation, completing Level 1 of the program achieved two goals. It brought him one step closer to his dream of becoming a Red Seal-certified tradesperson. It also gave the single father of three a chance to demonstrate to his daughters the importance of lifelong learning.

"One of the reasons I enrolled was to show my children that we should always strive to better ourselves in life," says Charleyboy, who moved from the community near Williams Lake to the Okanagan. "I plan to continue on to Level 2 of the program, complete my apprenticeship, and keep building a better life for myself and my daughters."

Charleyboy said that the College's respect toward Aboriginal culture was evident in the class.
"Being able to train with other Aboriginal students, in an all-Aboriginal setting, was a great benefit. We held smudge ceremonies and there was an Aboriginal Classroom Mentor to assist us. The way the program was structured really brought us together as a group."



The program's coordinator, Sara Cousins, also re-iterated the benefit of having an Aboriginal mentor on hand to work with the students.



"An important part of the success of this program was the Aboriginal Classroom Mentor, Chezzeray Alphonse, who was with the students every day providing academic, personal and cultural support," says Cousins.

Alphonse is from Tl'etinqox, also near Williams Lake, and recently completed fourth year carpentry apprenticeship at Okanagan College.

"Being a peer mentor is a great experience and to be able to give back to the college in any way is a great privilege," says Alphonse.

Construction Craft Workers play an important role on every job site in the province, from set-up to clean up.

They install utility piping, place concrete, construct roads, perform underground work, and assist skilled tradespeople such as Carpenters, Bricklayers, Cement Finishers, and Heady Equipment Operators.

The B.C. government has projected there will be call for nearly 12,000 construction trade workers by 2018. In the Okanagan, it is expected that the residential and commercial construction and road building sectors and related occupations will require 7,149 new skilled tradespeople.

More information about the Construction Craft Worker program is available at www.okanagan.bc.ca/trades.

Construction Craft Worker Apprenticeship Level 2 is starting August 7, 2016 - contact our Apprenticeship Office.