Dr. Arthur Green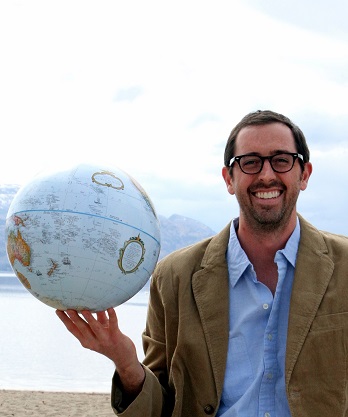 Arthur 'Gill' Green, PhD
Department of Geography, Earth and Environmental Sciences
Okanagan College
Office C145, 1000 KLO Rd.
Kelowna, BC V1Y 4X8
Phone: 250.762.5445 ext 4801
Email: agreen@okanagan.bc.ca
CV: http://goo.gl/qLW8py

You can find me here:
Teaching Website
@greengeographer
Academia.edu
ResearchGate
Google Scholar
GitHub


Education
PhD Geography – McGill University
MSc Natural Resource Management (Tropical Forestry and GIS) – North Carolina State University
BSc Anthropology and International Relations (double major) – Guilford College
Japanese Scholar Certification – International Christian University (Tokyo, Japan)


Research Interests
I came to the discipline of geography via my work on agricultural development, conservation planning, and agroforestry in Sub-Saharan Africa and Southeast Asia. As a result, my research and teaching focus on the intersection of natural resource management, law, and applied geography. I am specifically interested in political ecology of property, postwar and post-disaster reconstruction, land administration, spatial statistics, and agricultural lands.

Critical approaches to property theory and applied research on property drive much of my work. I believe that an understanding of the ways in which people struggle to access, define, and distribute the rights and responsibilities surrounding property is crucial for understanding how cultural, political, legal, and economic systems function. In fact, such an understanding is central to establishing food sovereignty and critical for my work in applied political ecology. The questions that guide much of my research are:

1. How do societies define property? What can and should be owned? What are the rights and responsibilities of ownership? How does property both reflect and change the way that we relate to each other?

2. In what way do market-oriented approaches to property rights support or undermine sustainable livelihoods?

3. In what ways can and do communities manage forest resources outside of formal government control? How can communities get governments to politically and legally recognize and protect these practices?

4. How are natural resources implicated in and impacted by violent conflicts? How can natural resources be managed in postwar scenarios and during conflicts to promote peacebuilding? How are different types of social identity linked to different types of natural resources and different types of conflicts?


Open Education Resources (OER)
In addition to the above research, I conduct research on OER and attempt to develop and use OER in all my courses. I have published open textbooks for geography and maintain my course content as OER on my website.

Additional OER materials that I have created for teaching subjects including Human Geography, Environmental Studies, Environmental Science, and Geographic Information Science can be found on the UBC Department of Geography's OER portal - a website that I established and continue to manage with my colleagues at UBC. At UBC, I am also part of a provincially funded project is currently developing augmented and virtual reality OER that will lower barriers to field trips and enhance field trips and fieldwork experiences.

In 2016-2017, I was named BCcampus Open Education Faculty Fellow in recognition of my continuing work on and advocacy for OER.


Courses Taught
Human Geography: Space, Place and Community (GEOG 128)

Human Geography: Resources, Development and Society (GEOG 129)

Food and Society (GEOG 201)

Introduction to Environmental Issues (GEOG 210)

Regional Geography of British Columbia (GEOG 217)

The Canadian Landscape (GEOG 224)

Geographic Data Analysis (Spatial Statistics) (GEOG 270)

Introduction to Cartography, GIS and Remote Sensing (GEOG 272)

Environment and Resources (GEOG 310) (UBC-Okanagan: Teaching Honour Roll 2011, Teaching Honour Roll 2012)

Environmental Impact Assessment (GEOG 319) (UBC)

Advanced Geographic Information Science (GEOB 370) (UBC)

Geography of War, Terrorism, and Peace (GEOG 323) (UFV)

Geography of Conflict (GEOG 515) (McGill University)

Directed Studies (GEOG 398)




Selected Publications


My most recent publications can be found at Academia.edu and on my website.

Green, Arthur. 2015. Social Identity, Natural Resources, and Peacebuilding. In Livelihoods, Natural Resources, and Post-Conflict Peacebuilding, eds. H. Young and L. Goldman, 9-40. London, UK: Routledge. http://goo.gl/6JS2zO

Green, Arthur.2013. Title Wave: Land Tenure and Peacebuilding in Aceh. In Land and Post-Conflict Peacebuilding, eds. J. Unruh and R. Williams, 293–320. London, UK: Routledge. http://goo.gl/jLHFZM

Green, Arthur. 2013. Conflict in Caledonia: Aboriginal land rights and the rule of law by Laura Devries, University of British Columbia Press, Vancouver, 2011, 242 pp., hardcover C$85.00 (ISBN 9780774821841). The Canadian Geographer / Le Géographe canadien 57 (4):e23–e24. http://goo.gl/GC8hMy

Green, Arthur. 2010. Land Tenure Security and Peacebuilding in Aceh, Indonesia. Asian Journal of Environment and Disaster Management 2 (1):61–68. http://goo.gl/nk7Dw3

Green, Arthur. 2010. Social Identity, Natural Resources, and Peacebuilding. In CAPRi Workshop on Collective Action, Property Rights and Conflict in Natural Resources Management. Siem Reap, Cambodia, June 28 to July 1, 2010. Siam Reap, Cambodia: CAPRi. http://goo.gl/DkFIhW

Green, Arthur., and J. Unruh. 2010. Clean Development Mechanism Afforestation and Reforestation projects: implications for local agriculture. CAB Reviews: Perspectives in Agriculture, Veterinary Science, Nutrition and Natural Resources 5 (057):1–11. http://goo.gl/vOpwFg

Green, Arthur. 2009. Land Tenure and Carbon Sequestration in Africa. In Forest Tenure, Governance, and Enterprise: new opportunties for Central & West Africa. Yaoundé, Cameroon. http://www.slideshare.net/YaoundeTenureConference/53-a-green

Green, Arthur. 2007. Fruit Tree Crops and Nurseries in Aceh: A Rapid Market Appraisal of Aceh Jaya and Aceh Barat. Indonesia Farmer-to-Farmer Program Report, Winrock International. Winrock International and World Agroforestry Centre (ICRAF). Bogor, Indonesia: ICRAF. http://goo.gl/cHixLj

Green, Arthur. 2004. Reflections from the Field: Islam and the Tsetse Fly. Sylvanet 17 (2):2–5. http://goo.gl/NUQn54

Green, Arthur and Jonas Tchinlé. 2004. Evaluation of Mbororo Transhumance Routes in the Tchabal Mbabo-Dodeo Region of Cameroon. Yaoundé, Cameroun: BirdLife International. http://goo.gl/NUQn54

Green, Arthur, F. Tiayon, and D. A. Ndeh. 2004. Involving African Pastoralists in Conservation Area Management: The Case of the Gashaka Gumti-Tchabal Mbabo Transboundary Conservation Project. In Working Forests in the Tropics. University of Florida. Gainesville, Florida.